74elco for73SS
Senior Member
Posts: 575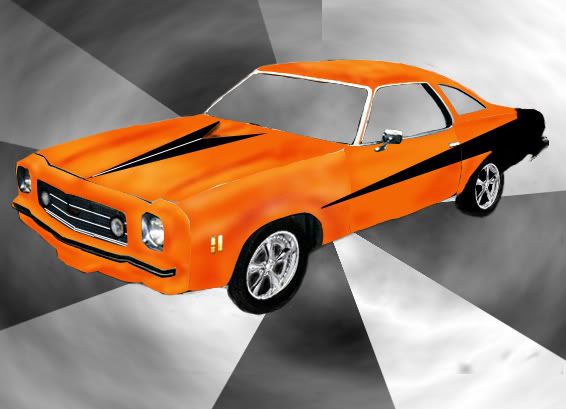 Loc: so cal
Reg: 04-30-04

07-13-08 10:47 PM - Post#

1477206



We're getting new members and it seem's many could use a walk thru on posting pics here.

here's a walk thru of uploading pictures from your computer onto photobucket.com, which is free, and then how to link your pictures from photobucket to here.

Here goes:

First, create a free account at www.photobucket.com

After you have an account, find the upload pictures button on the main page of your account, and make sure the "from my computer" button is selected: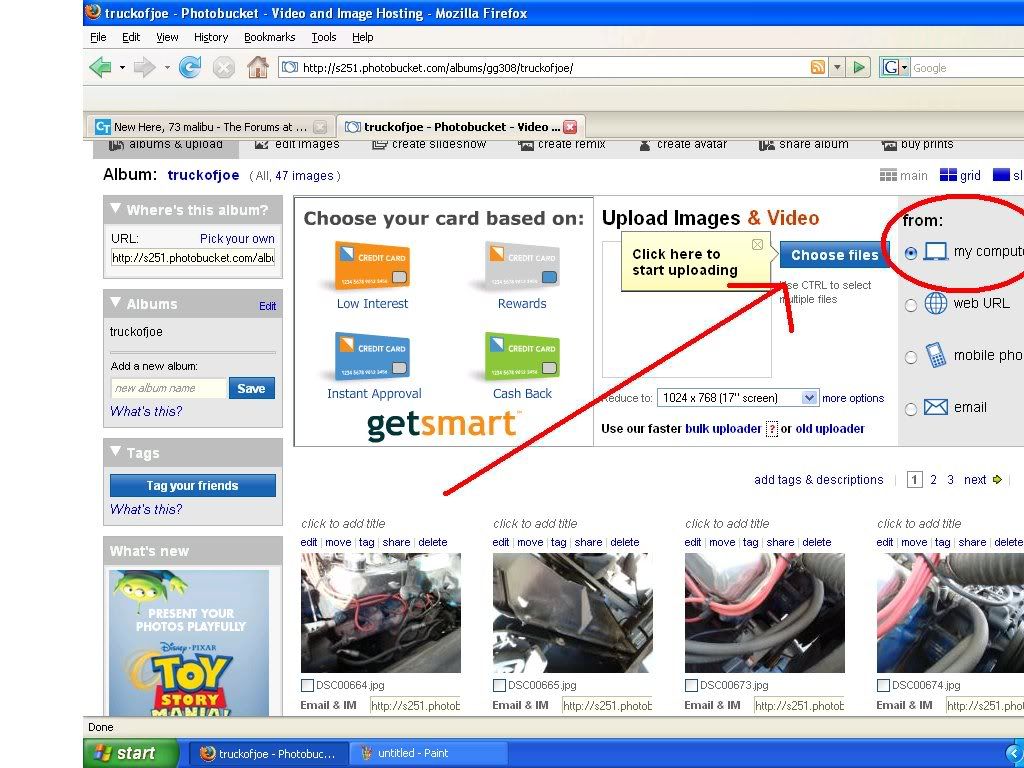 Next, a window pops up of YOUR computer, you must select the picture you want uploaded off your home computer where your pictures are located, then hit open.: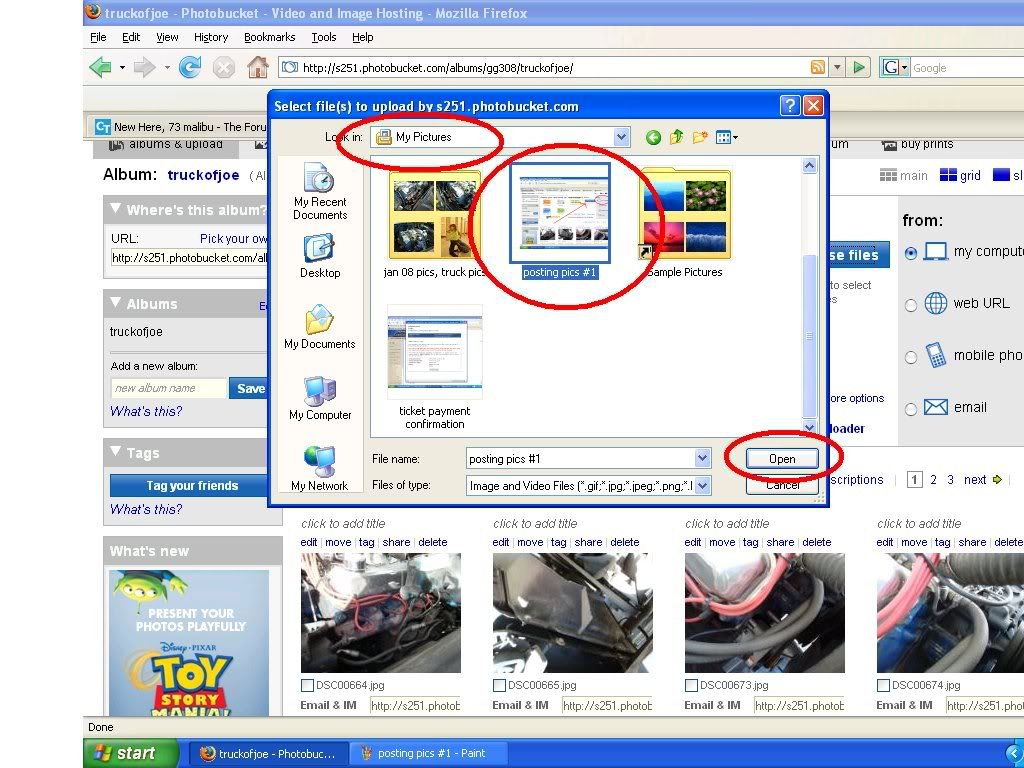 Now wait for the picture to upload to photobucket: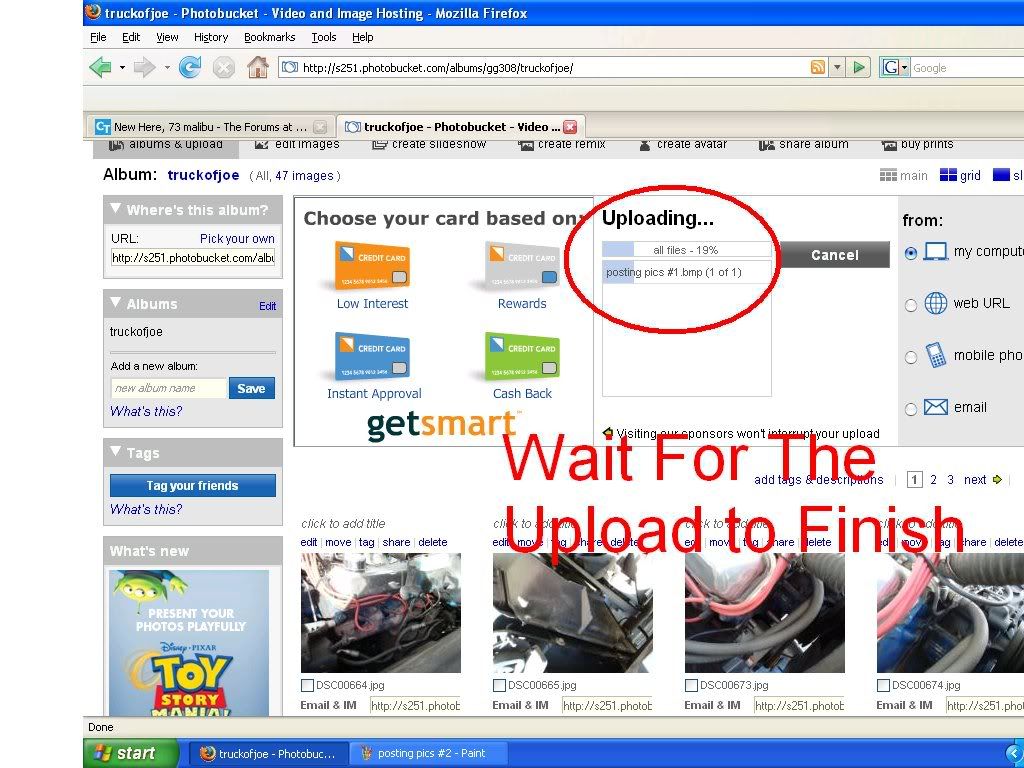 After the upload is finished, you have the option of titling and putting notes on your pictures- this is more for people surfing your actual photobucket album than for what we care about here , you can skip this step and hit the return to album button, or the save and continue button as it applies to you: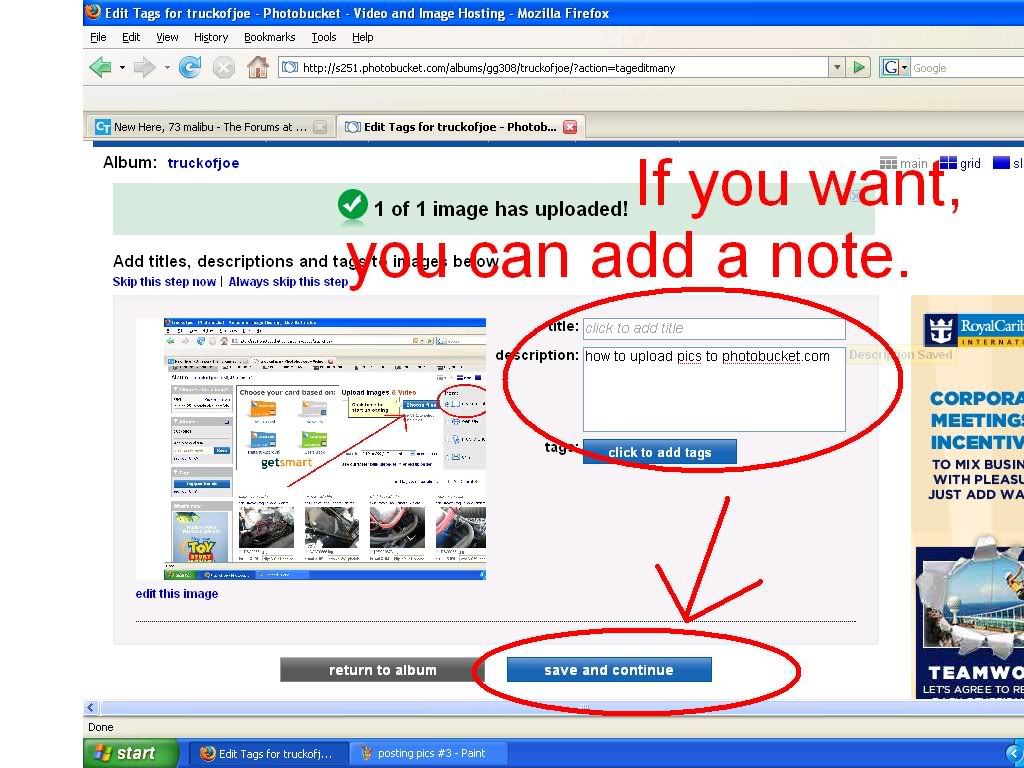 Now, you should have been taken back to the front page of your account. you should see a thumbnail of the picture you just uploaded, with a few options underneath it. Click on the actual box where the url is that says "direct link". When you simply click this, it automatically copies it to your clipboard: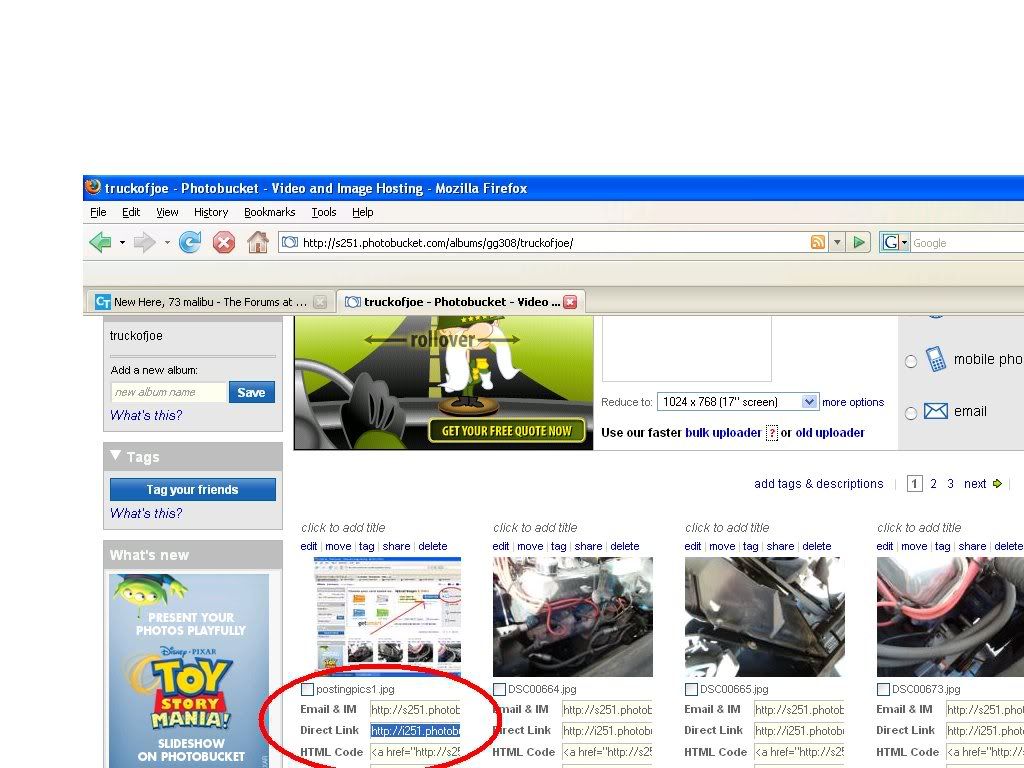 Now we're done dealing with photbucket. Now move over to www.73-77chevelles.com and either add a new topic or reply in a already present topic. This is what you'll see. You can type your post and when you get to the point you want to add your picture, click the "image" button to paste the already copied url from photobucket. When you click the image button, a window pops up- just right click in the box and select paste, or just hit ctrl and "v" at the same time: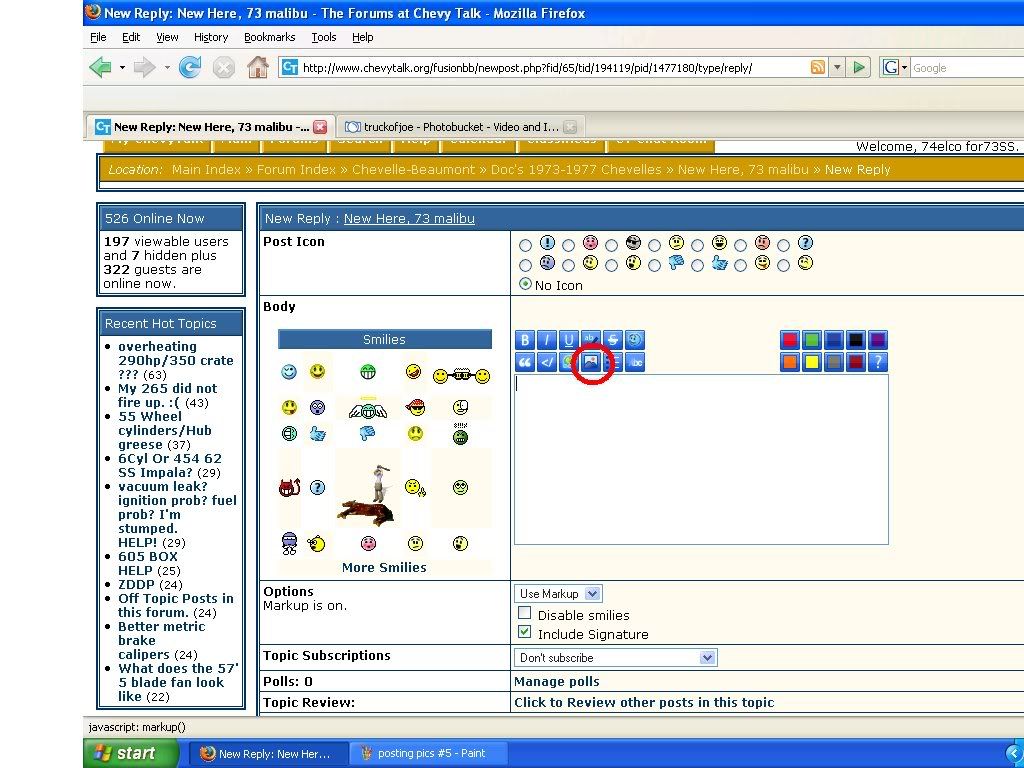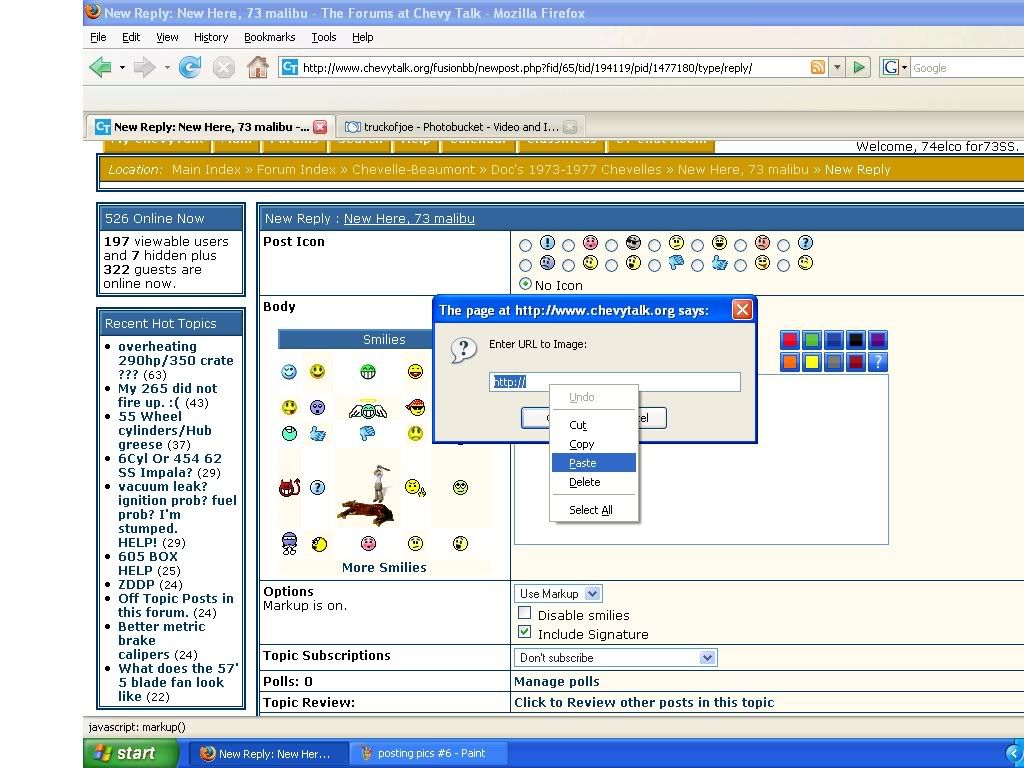 Now you can type more or be done with your post. You can click the preview button to make sure you did it right,, and when you preview your pic and it's actually there- click the "add post" button,, and your good to go!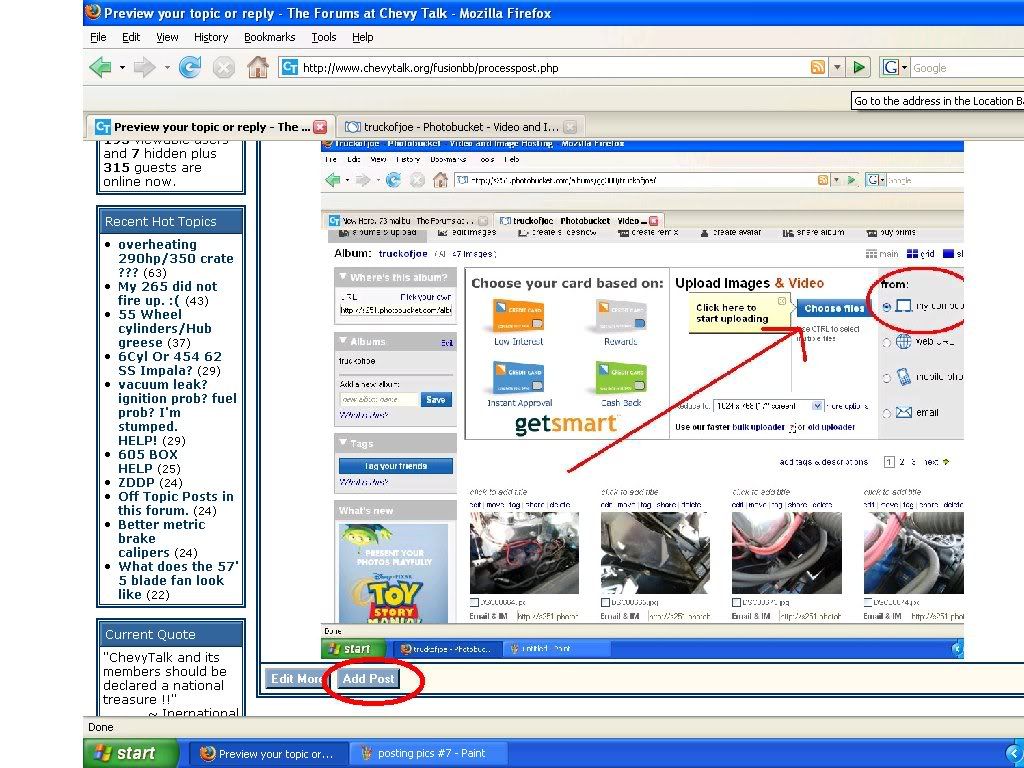 ps- if you notice all the pics in this post are hard to view- just right click on any picture and select view picture. it'll bring up the picture by itself, and you have a magnifying glass you can zoom in to get a clear view!

Now lets see your cars!


Edited by 74LagunaS3 on 07-14-08 06:18 AM. Reason for edit: No reason given.